The Jelly Jammers Organization
The Jelly Jammers are members of a club devoted to collecting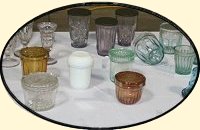 American jelly glasses that were used to hold all types of jams and jellies. Some of these glasses were designed for home canning while others were sold commercially already filled with jelly. Many of the commercial jelly glasses could be reused by the homemaker as a jelly glass, drinking glass or table accessory. Some of the jelly glasses are plain and utilitarian while others are quite ornate. This web site is dedicated to sharing information about jelly glasses, providing a reference for jelly glass identification and promoting the hobby of jelly glass collecting.
Stop back and visit often. This is a work in progress and new jelly glass photos and information will be added frequently.
Next Official Jelly Jammer Meeting
The spring 2020 Jelly Jammer meeting will be at 4:00 PM, Saturday March 14, the evening before the St. Louis Bottle Show. The meeting will be held at the official show hotel, the Holiday Inn St. Louis – South County Center (address: 6921 South Lindbergh Blvd., St. Louis, MO. The Jelly Jammers have an area in the lobby where they will conduct their meeting. The St. Louis Bottle Show will occur the following day, Sunday, March 15th, and it will be held just down the road at the Orlando Gardens, 4300 Hoffmeister Avenue from 9:00am to 2:00pm.
Tips for New Jelly Jar Collectors
The Lid Dilemma
Barbara Bowditch in her book,
American Jelly Glasses
, wrote:
"Lids are maddening. In the days before the standardization of sizes in the industry, jelly glasses and their lids were made in an extraordinary range of sizes. As a result, when lids and glasses have been separated, it is hard to bring them together again. Orphan lids and orphan glasses that look like they should make a fit, don't." (59)
Even after jelly glasses for preserving became more standard, lids continued to pose a problem. Cup and tumbler jellies are most often found in 6 oz or 8 oz sizes. Lids were made to fit those sizes. Unless the lid and the jelly glass have the company name or logo embossed on them, it can be difficult to match the correct lid with the correct base.
A good example is the Banner Jelly glass.
This is an authentic Banner jelly glass with the correct lid. Note the shape of the glass:
Here is a jar that looks like it should be a Banner jelly. It even has a similar shield on the bottom and the Banner lid fits perfectly:
Unfortunately, as far as we know, this is not a Banner jelly. The jar and the lid have been "married."
Here is another example of a lid fitting multiple jelly jars. The first photo shows a Hazel Atlas lid on a Hazel Atlas jar where it belongs. The second photo shows the same lid fitting perfectly on a jelly glass mug with no identifying marks. The third photo shows the same lid on a jelly glass that is marked CA & C on the bottom. These three jelly glasses are entirely different but one lid fits them all.
There are many unmarked lids to be found. In the case of unmarked lids it is probably OK to put unmarked lids on unmarked jars if they fit. It's not a good idea to "marry" a marked Atlas lid with a Ball jar, even if it does fit. All of us have a stack of jelly jars that need lids. Because most of the lids for later era jars were made from tin they split, bent or rusted and were discarded. Check boxes of lids at jar shows for lids you might be able to use, but be aware of possible "marriages" when you are shopping for jelly glasses.